Experience Requirement
The Alpha Company Campaign requires all players to have at least 1000 Rank Experience.
Available Classes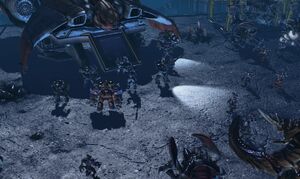 Story Missions
These missions are required to complete the Alpha Company Campaign. They are completed in a linear fashion, until you must decide the fate of Dr. Tanaka. Regardless of your team's decision, all bosses are fought.
Chapter 1: The Marines Have Landed
Chapter 2: Title
Option A: Spare Dr. Tanaka
Option B: Kill Dr. Tanaka
Chapter 3: Redemption
Optional Missions
Although not necessary to complete a campaign, these side-missions can earn a team extra experience and other useful rewards for their completion.
Community content is available under
CC-BY-SA
unless otherwise noted.